Press Releases
Tax Cuts and Jobs Act Passes House, Heads to Senate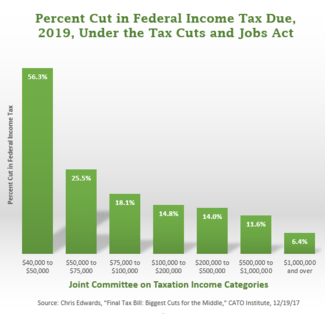 WASHINGTON, DC – Congressman Neal Dunn (FL-02) released the following statement after the passage of the Tax Cuts and Jobs Act Conference Report:
"Today, we made history. We just voted to cut the taxes of hardworking Americans across this country – an early Christmas gift for our nation," said Dr. Dunn. "The Tax Cuts and Jobs Act lowers individual rates, doubles the child tax credit, and delivers much needed tax relief to Main Street job creators. This means bigger paychecks, more jobs, and a stronger economy."
•
Lowers individual taxes and sets the rates at 0%, 10%, 12%, 22%, 24%, 32%, 35%, and 37%
•
Doubles the Child Tax Credit from $1,000 to $2,000
•
Roughly doubles the standard deduction to $12,000 for individuals and $24,000 married couples
•
Eliminates Obamacare's individual mandate penalty tax
•
Preserves deductions for mortgage interest, charitable contributions, and medical expenses
•
State and local tax deductions are limited to $10,000
•
Helps "pass-through" small businesses by offering a first-ever 20% tax deduction on the first $315,000 of income, reducing their effective tax rate to no more than 29.6%, down from a high of possibly 39.6%.
•
To spur jobs and economic growth in the face of foreign competition, the bill reduces the U.S. corporate rate – currently the highest in the industrialized world – to 21%. The average rate in the European Union is 18.7%, and our largest trading partners like Canada, Japan, and Britain have cut their corporate rates recently to become more competitive.
Under this legislation, a family of four making $55,000 will see a tax cut of more than $1,000.
"This law is going to help the hardworking people of Florida's Second District, and that's what I came to Congress to do," added Dr. Dunn.
The Tax Cuts and Jobs Act passed the House today and will be voted on in the Senate this week. President Trump is expected to sing the bill into law before Christmas.

###